Let me start by saying that I'm not the biggest LeBron James fan. Although I respect his talent and acknowledge him as the best player in the world -- by far -- I was never blown away by him. No disrespect to him as a player, but I just never grew the same kind of love for him as I did for Michael Jordan or even Dwyane Wade (from 2004 to 2009). Both his game and personality just never jived with me in the same manner as those two guys. While he is today's best player, I don't put him in the same category as guys like Magic, MJ, and Larry Bird in terms of having a killer instinct to win. Personality wise, I think he oversells himself a little much (his introductory video in NBA 2K14 just made me roll my eyes), and sometimes his over-the-top business mentality approach has deservedly harmed his reputation. I also completely disagree with his stance on why he never participated in the Slam Dunk contest; if transcendent superstars before him such as MJ, Dr J, Dominique, etc. had no issues with participating, what makes him above all that?
Overall, I'm not completely in love with his game or personality. I've called into question plenty of his on and off-the-court decisions.
On July 11, 2014, however, LeBron James followed his heart, and that is the one decision that I am 100% behind.
When reading LeBron's
first-hand essay on SI.com
, I could not help but relate to what he is going through. I'm not suggesting, by any means, that I'm in the same stratosphere of importance, or that the impact of my decisions even pale in comparison to that of LeBron's; I'm just drilling it down to just how difficult it is to make big decisions - particularly in terms of the pressure of weighing options, as well as being criticized from all angles before, during, and after making a decision. After my experience making a decision to leave my job at NASA to go to graduate school as a full-time student at Georgetown, I can't even imagine the kind of heat LeBron was under with a whole different level of publicity and scrutiny.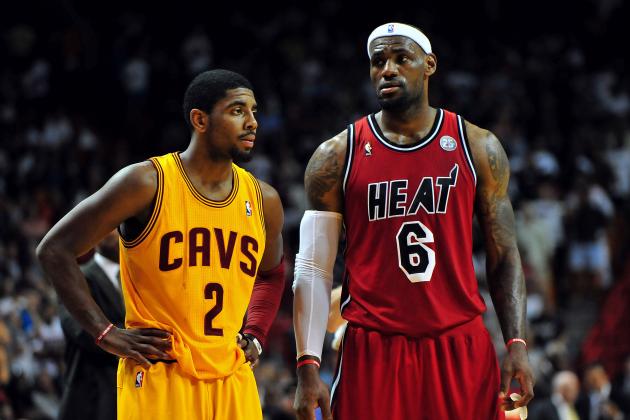 LeBron James (right) will be teaming up with Kyrie Irving (left) next season
Six and a half years ago, I made the decision to leave my hometown and move to Orlando, FL to work for NASA. Much like LeBron's decision, it was an absolute no-brainer; NASA was the perfect place to establish myself and jump-start my career - similar to why Miami was the right place for LeBron four years ago. Since I was not criticized for that initial move and thus could not relate to that particular aspect of LeBron's first big decision, I found myself on the same side as many others in criticizing him for the manner in which he made this decision. However, I did believe that he made the
correct
decision in teaming up with Dwyane Wade and Chris Bosh in order to win championships. I also give him credit for taking a substantial pay cut in order to make that arrangement. Four years later, despite all the level of hatred going his way at the time, I think most people no longer fault him for making that move.
What I could NOW relate to is LeBron's decision to come back home. While it might not make sense to most people to leave an income source, it makes a lot of sense for me to return close to home and pursue a passion. As great as NASA is, I just did not sustain the same love for it as I originally thought I would. Before working there, I saw an opportunity to achieve a stable career at a very respectable job. But now, I have a chance to transition myself into something that I like doing better - albeit taking a risk in order to do so. LeBron is taking a risk, but it is in his comfort zone where he is happy. Sure, it's a long shot to bring Cleveland its first title in about 50 years. But LeBron will be more than happy to
While LBJ is not getting nearly the same criticism now as in 2010, there was still a hefty amount of hate going his way nonetheless. Several reporters called into question his lack of professionalism and courtesy to his fellow teammates for dragging this decision out so long. Others said he would be a hypocrite for going back to Cleveland, given that he promised to win multiple championships in Miami (remember the infamous "not 1, not 2...." declaration). In many people's eyes, he conceded his goal of winning multiple championships by acknowledging the Cavaliers - as constructed - are a long way from winning a title.
After this has all come full circle, let's give the guy a break. Four years ago, he was a 25 year-old guy, who had never left Ohio, with the opportunity to move to Miami and play with his best friends. When growing up, many of us needed to leave the vicinity of our hometowns - just to check it off our bucket list. Before college, many of us were disgusted at the idea of living in our hometowns and being close to family. But after venturing out on our own and accomplishing what we wanted to, the idea of being near family seems a lot more appealing. As was the case for many of us, once LeBron sowed his oats, he gained some valuable perspective on what is most important to him.
Maybe it's because we're about the same age (we're just under 11 months apart), and we have experienced a similar path of personal growth. Nonetheless, I completely endorse LeBron's free agency decisions. As I know I need to go back to school to fulfill my personal and professional goals - even if it doesn't make sense to others - LeBron needs to do what gives him the most fitting personal situation. Sure he's pissed off and confused a lot of people along the way. He is guilty of being indecisive. But so am I, and I think many others would be too if they are torn between difficult options on a big decision. When I was torn between options, I pissed off my girlfriend (now fiance) and my bosses at work with the roller coaster of a decision process. I knew whatever path I chose, there was not one end-all option that would make everybody happy. I had to do what was best for me, and stop constantly and desperately searching for a perfect answer that everybody would endorse.
LeBron's biggest criticism hit him hard when he announced "The Decision" back in 2010. Make no mistake: he, as well as everyone else out there, acknowledged that it was not the most sensitive and effective approach to his decision. It gave everyone enough justification to ignore the fact that the telecast raised 2.5 million dollars for charity, and call LeBron's character into question.
Okay, enough about the life aspect of his decision. What impact will this decision have on the NBA landscape?
Does this make Cleveland a contender? No question. Are they as good as Miami would have been with him? Absolutely not - at least, not right now. Kyrie Irving and Andrew Wiggins are promising studs, but they are not better than Dwyane Wade and Chris Bosh today.
This is going to be a huge test for LeBron in terms of his mentoring ability. He seems to be universally praised for his knowledge of the game and leadership. But he has yet to lead a team of young promising stars with him being the "old head." On Miami, he was very fortunate to have proven leaders such as Wade and Udonis Haslem (don't laugh - he has been the team's co-captain for several years now) to help him lead Miami to its four Finals appearances and two titles. But this new gig will be completely uncharted territory. I expect that he will do well, but I am not sure if it will lead to a championship in Cleveland quite yet. But if he does, LeBron's legacy will be something extremely unique.
Quick point on those who didn't expect LeBron to come back to Cleveland: everything that people conventionally thought would deter him from coming back home is being overblown completely. A couple quick myths below:
Myth 1
: LeBron is still pissed at Dan Gilbert for the infamous Comic Sans tirade.
Fact
: Yes, it irked LeBron. But LeBron irked Dan Gilbert and the entire Cleveland fan base. Considering all the feuds throughout the NBA that most of us don't know about, this was not nearly as big a deal as everyone made it out to be. The two of them were able to hash this out after LeBron made up his mind.
Myth 2
: LeBron won't want to play for a rookie coach.
Fact
: As we've all come to know, this is a player's league. If new coach David Blatt fails to win over his players, GM David Griffin will not hesitate pulling the plug on him. The current coach should have virtually NO impact on LeBron's decision. Other than Gregg Popovich, there is NO coach in the NBA who will have the final say over LeBron.
Myth 3
: LeBron wants to win as many titles as his idol, Michael Jordan.
Fact
: The number of championships he wins is no longer LeBron's biggest priority; securing a championship to his home state of Ohio serves as a far more powerful goal and would give him an incredibly unique legacy. He thinks that this is a far more difficult feat to accomplish, and no longer thinks the grind of multiple years of playing deep into June is important anymore. In 2010, he thought the Big Three era would allow him not to have to carry most of the load. In 2014, he realized that this approach would no longer be valid as the Heat were constructed. Now, he has a chance to lead a younger and fresher group and perhaps not log nearly as many minutes.
Overall, I think this is great for the NBA. The Eastern Conference has suddenly become balanced and appealing. The timing is fantastic, considering the conference had arguably its worst season in the history of the league. I think Miami is still the favorite in the East, but we'll get to that before the season starts. For now, let's enjoy the announcement and see how it plays out. On the whole, this development has the potential to become the greatest story in the history of sports.